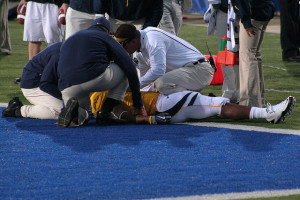 Fame, Fortune, Glory—what spectators imagine is the life of an NFL athlete. They do not see the grueling hours of practice and the countless injuries these athletes sustain throughou
t their careers.  NFL athletes peak at 25 years of age and have an average career length of three and a half years. When their careers come to end, what's next? For some NFL players, they continue with their lives and parlay their athletic careers into successful business ventures. However, those that have suffered from concussions and traumatic brain injury are left with effects that are irreversible.
Chronic Traumatic Encephalopathy (CTE) is found in individuals with a history of repetitive head trauma, including symptomatic concussions, which results in the production of abnormal proteins. These proteins interrupt normal brain functioning and eventually kill the nerve cells. However, NFL doctors say the NFL is not a direct contributor to CTE, pointing out individuals with brain degeneration that have never set foot on a football field.
Unfortunately, players such as Junior Seau, Jovan Belcher, Andre Waters, Mike Webster, and Ray Easterling suffered from CTE, which abruptly ended their lives. These former NFL players suffered brain degeneration, including symptoms such as memory loss, impaired judgment, impulse control issues, aggression, depression, suicidality, and eventually progressive dementia. NFL statistics show that in 2012, 261 players were diagnosed with concussions during preseason and regular-season practices and games combined, 229 players in 2013 and 202 players in 2014.
It seems more light will be shed on the issue of NFL based concussions and CTE. Will Smith stars in the new movie, "Concussion," playing Dr. Bennet Omalu who discovered evidence of chronic brain damage in deceased NFL athletes.   Dr. Omalu, co-founder of the Brain Injury Committee, was one of the first forensic pathologists to identify CTE in American football players.
The NFL has reluctantly accepted the role concussions have played in lives of NFL athletes after retirement, although it refuses to admit guilt. A settlement was reached between the NFL and over 5,000 retired players for at least $900 million to players who suffered concussions during their professional careers. The settlement also includes a program of baseline examinations of the players for potential brain impairment, counseling, and treatment.  A small number of players have appealed the settlement claiming it does not go far enough in compensating players who do not have a compensable disability under the terms of the settlement.  However, a vast majority of players have not appealed the settlement and sadly, are now forced to wait to receive the care and compensation they deserve.
A further effort by the NFL to show it has the players' best interests in mind is the implementation of the "Julian Edelman rule." Edelman was hit in the fourth quarter of the 2015 Super Bowl, leaving him dazed with only eleven minutes left. The concussion spotter for the NFL radioed to the sidelines that Edelman needed to be evaluated for a concussion. Nonetheless, Edelman played the remainder of the game. The Julian Edelman rule allows the concussion spotters to call for a medical timeout if a player shows obvious signs of disorientation or is clearly unstable. Further, the new rule requires a medical clearance before a player may return, stiff penalties against hits to the head or neck, and a neurological consultant on the sidelines for games.
Despite years of denial, the NFL has finally realized concussions are a real and continuous problem, not only to player health and safety, but also to the viability and reputation of the game. The NFL understood it had a public relations nightmare on its hands and that if it still wanted to be part of the fabric of American sports, it needed to respond.  With its multi-billion dollar enterprise at risk, it responded.  These changes are a welcome first step in ensuring that the current players will not suffer like those that came before them.