Attorney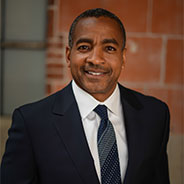 James A. Sims, Jr. has been representing professional athletes as an attorney for more than 25 years. He received his bachelor's degree from Gettysburg College in Pennsylvania and his Juris Doctor from Southwestern University School of Law in Los Angeles. Mr. Sims has extensive experience and success in pursuing and protecting the employment rights and benefits of athletes. He has represented players in workers' compensation actions and other civil and criminal matters in state and federal court.
Mr. Sims began his legal career as in-house counsel for several banks and financial institutions, where he gained broad experience in various corporate, employment matters, and business transactions. He has represented athletes in contract negotiations and other areas of their personal and business life since 1987.
Mr. Sims has been an adjunct professor of the John F. Kennedy School of Law and Graduate School of Psychology since 1998, teaching courses in Sports Law. He has served as an advisor to the National Football League Players Association Agent Advisory Committee.
Mr. Sims is admitted to practice before all courts of the State of California, including the United States District Court for the Northern District of California.