On November 29, 2012, San Antonio Spurs coach, Gregg Popovich, changed the way the NBA treated their athletes. During a nationally televised game, Popovich rested star players, Tim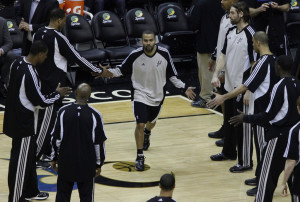 Duncan, Manu Ginóbili, Tony Parker, and Danny Green instead of playing them for a fourth time of the five days they were on the road. At this time the league office was outraged and fined Popovich $250,000.
In 2014, Commissioner Adam Silver stated the NBA's goal is to make basketball the number one sport in the world and that, "injuries can happen any place at any time." This statement was made in response to Paul George's gruesome compound fracture in his right leg last summer. He did not officially return for another eight months after that injury. Then, during Game 1 of the NBA finals this past June, Kyrie Irving experienced a knee injury that would prevent him from playing in the finals. Now, five months since his surgery, Irving is on the court with his teammates, but wearing pants, casual sneakers, and ice compression devices on both knees. Numerous injuries have continued to occur as the seasons progressed and the NBA can no longer suppress the issue.
Just last season, more than 4,000 man games were missed by players due to injuries, which is a number the NBA cannot ignore. The league has decreased their four games in five nights scenarios from 70 to 27, while decreasing the back-to-back games from 19.3 to 17.8 per team. However, in the 2014-2015 season, there were 578 back-to-back games scheduled, up from 560 the previous season, which does not reflect the leagues intentions to improve player health.
NBA Director of Sports Medicine, Dr. John DiFiori, partners with GE Healthcare to promote research that can benefit the athletes' health. GE will provide funding for research into orthopedic conditions. The purpose of this alliance will serve to focus on joint health and acute and overuse musculoskeletal injuries faced by NBA players. Musculoskeletal disorders (MSDs) are injuries or disorders of the muscles, nerves, tendons, joints, cartilage, and disorders of the nerves, tendons, muscles and supporting structures of the upper and lower limbs, neck, and lower back that are caused by exacerbated or sudden exertion or prolonged exposure to physical factors such as repetition, force, vibration, or awkward posture. This type of injury often plagues the athletes in the NBA due to multiple games and endless hours during practice that does not allow for sufficient recovery time.
The NBA and league owners' motivation for keeping their players healthy may not be entirely selfless. In 2014-2015, $344,000,000.00 was lost due to player injuries and illnesses. If key players are out for majority of the season, ratings will likely decrease and adversely hurt their income. Although the injury list is not as high this year as it was last year, the NBA experienced an increase in the high-profile players' injuries, which is the reason for their concern and focus on athletes' health.